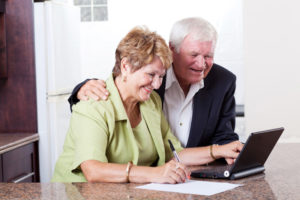 Several websites that provide medical information specifically for older adults are now available.  These resources can be used to help you learn more about the medical issues you may be experiencing.
Understanding your diagnoses, treatments and expected outcomes of treatment is especially important for your health.  Many people don't follow their doctor's recommendations because they don't really know what they are supposed to do, why or how the recommendations will help them.
Being more informed allows you to ask appropriate questions about your condition and the treatment options that are available.  It also allows you to be an active participant in your treatment.  The more educated and involved you are, the more likely you will follow recommendations and, as a result, feel better.
Check out these websites:
This "how to" program is designed to help older adults better understand health information and research about aging.  It was created by two nonprofit organizations, the Merck Institute of Aging and Health and the American Federation for Aging Research.  This site shows you how to find health information on the internet, evaluate the reliability of health information, product claims and current research findings and act on making informed decisions about your health.
The site has helpful checklists patients can take with them to doctor's appointments, links to medical associations for specific diseases/disorders and a glossary of common medical and research terms.
www.healthinaging.org/agingintheknow
This site provides basic information about the diseases and disorders that affect older adults.  The "What to Ask" sections provides you with practical questions and tips that will help you work best with your healthcare provider on developing the best care plan for you or your loved one.  "Elder Health at Your Fingertips" is an alphabetical list of common medical conditions.  "Health Care Decisions" offers assistance with common health care decisions faced by older adults.
There are also links to other medical organizations that provide resources for specific medical conditions.  This site was created by the American Geriatrics Society's Foundation for Health in Aging.
If you are insured through Medicare, this site will help you keep track of changes in benefits.  It provides information on billing, appeals, long-term care, plan choices, provider information, preventative services, prescription drug plans and much more.
This site has an alphabetical list of health topics of interest to older adults such as balance problems, caring for someone with Alzheimer's, exercise for older adults, low vision, problems with smell and taste and sleep problems.
This site offers a "speech on" option that enables a talking feature so the text can be read to the viewer/listener over the internet.  This website was developed by the National Institutes of Health.